Chef Uniforms - Gauteng , South Africa !
If its top quality Chef Uniforms that you are looking for then you have come to the right place . We have a wide variety of classic styled Chef Uniforms to choose from in South Africa - We can do all types of different colours and styles for chef Uniforms and we also brand them if required . Make sure that youre shopping in the right place when you choosing your Chef Uniforms for the Restuarant or Cooking in a professional environment . We keep only the best Chef Uniforms for our customers all over Gauteng and South Africa . Come to Marys Outfitters for the the best deals in Chef uniforms South Africa ..


Get Affordable Chef Uniforms now in Pretoria , Gauteng !
At Marys you will find all the best Affordable Chef Uniforms in every colour and style . We make it a fun for you all the way when you dress for work with the best affordable Chef Uniforms in Pretoria , Gauteng . Stop wasting your time and money when looking for Affordable Chef Uniforms in the wrong place .. We have all the bits that you require to make up a professional look as a chef in South Africa . We do all Affordable CHef Uniforms , Chef hats , Chef Aprons , Comfort Shoes and more . We offer all Logo Printing and Company Branding on the Affrodable Chef Uniforms ... now in Pretoria , Gauteng !


Cook in style with top quality Chef Uniforms from Marys today ?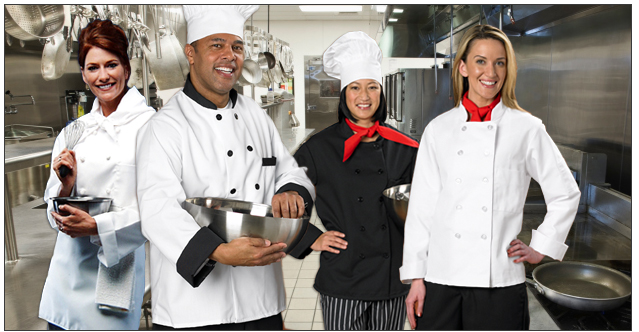 We are that Chefs Uniform Supplier in Gauteng, South Africa that cares for you !!
We are your favourite chef uniforms supplier ! At Marys Outfitters you get more ! We are a Chef Uniform Supplier that selects only the best materials and styles for the chefs wear in South Afirca , Gauteng . We make sure that our customers are happy at the end of the day with the Uniforms that this Chef Uniform Supplier offers .At this Chefs Unifrom Supplier you get all the Chefs clothing , Chefs accessories , Hats and shoes that a Chef requires to start the kitchen up ! Try out the best uniforms from this reutable Chef Uniforms Supplier in Gauteng, South Africa .

We look forward to giving you the best Chef Uniforms available at the best prices !!

Get Custom made Chefs Uniforms that fit like a glove now in Pretoria , Gauteng
In the corporate world today Custom made Chef Uniforms are important in the presentation of the Food Company or Restuarant. We specialise in making the best quality Custom made Chef Uniforms to suite your work profile . We leave the space open for you to choose the colours , prints and logos that should be on the materials that we offer . We do all the branding and supply custom made chef uniforms from a-z. .Come have a look at our affordable Custom made Chef Unforms that are strong and reliable to last the extra time . We offer this not only to Pretoria and Gauteng but open our doors to everyone in South Africa to enjoy the benefits of Custom made Chef Uniforms today ! We cater for both Custom made Chef Uniform wholesale and retail buyers.


Buy the best Chef Uniforms for your corporate look in Pretoria , Gauteng!!
Select your best Chef Uniforms that you require for the resuarant that you work for or own ... We have the best Chef Uniiforms that we have created and perfected through out the years of working with Chef Uniforms . Make sure that you are buying right and getting the best Chef Uniforms that you can get for the best price . Have fun when dressing up for job everyday - our Chef Uniforms are strong and reliable and always take you a long way . Find us today in Pretoria , Gauteng today . At Marys we make it fun and enthusiastic !